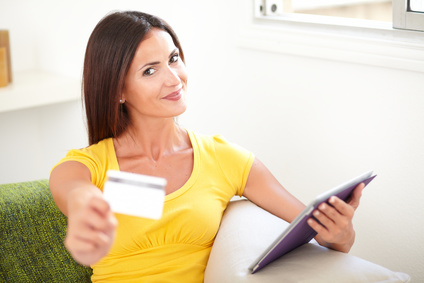 Contractor SEO – 9 Simple Words I Used On Google That Helped Me Sell Thousands of Ductless AC Systems
By Michael Haines, founder of ACDirect.com
I don't know about you but I'm always looking for the right words in my marketing messages 
Words that will capture the attention of my perfect prospects and send them flocking to me.
I've gotten it wrong as much as I've gotten it right. Today, I'm going to share a simple message I created on Google that helped me dominate the online sales of ductless air conditioning systems, specifically Mitsubishi and LG, for over 10 years.
I'm also going to show you how to upgrade your contractor SEO using the exact same concept in your business and improve your clicks and paying customers from your organic traffic, even if your ranking are less than perfect.
The concept is simple, really, you just have to take the time to do what very few of your competitors are doing. And that is to update what's known as your page meta titles and meta descriptions within the "back-end" of your website.
A page title and description are the results that searchers see on the Google organic listings when they complete a keyword search. They are written within the coding of your website.
As an example, if you type in the search term "ductless air conditioner" in Google you will see this: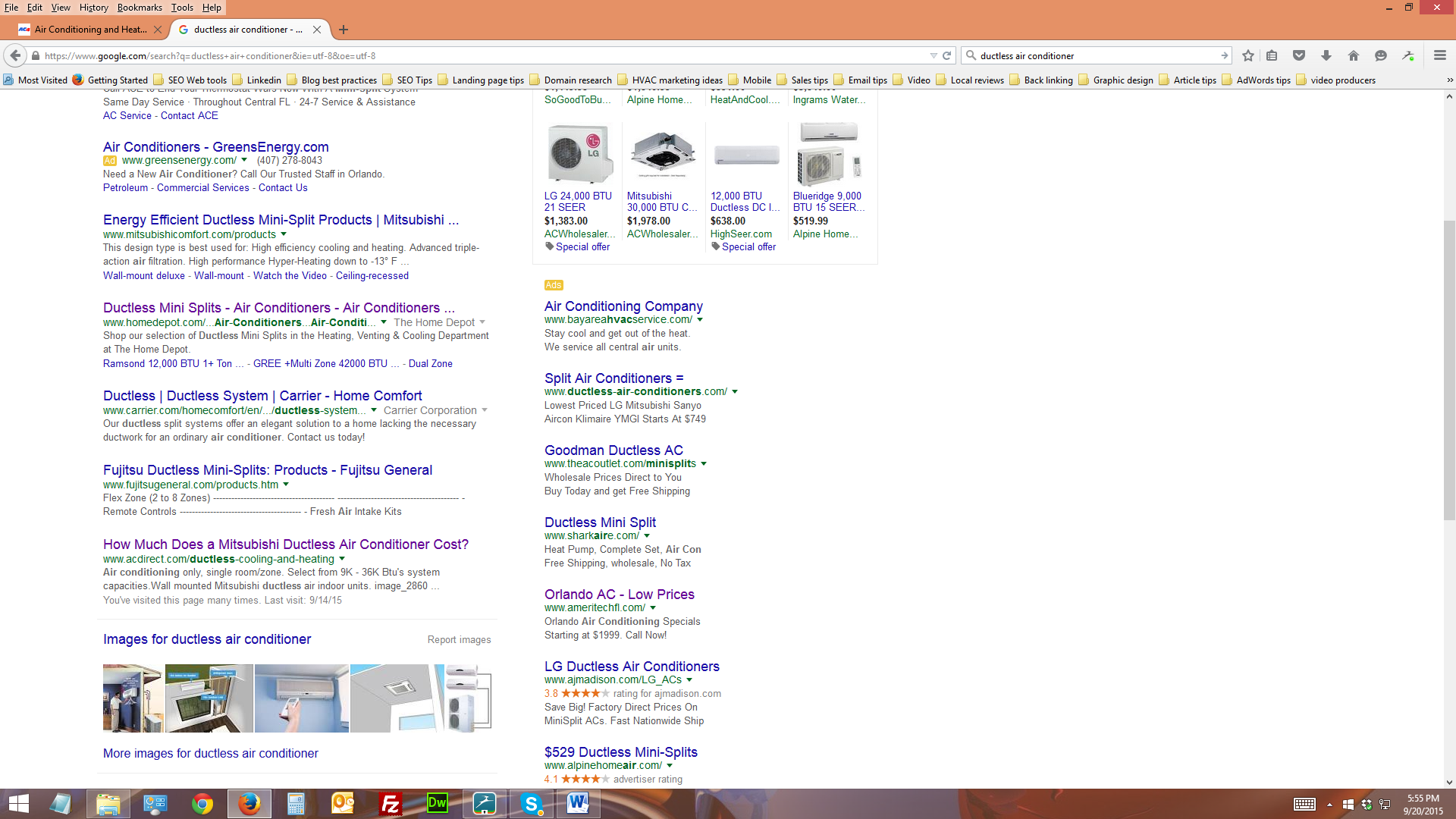 On each organic listing shown on the search results page, you will see these 3 things:
1) The "title" is in blue (or purple if you have ever clicked on it before)
2) Under the title is the website address, or URL of where you will be directed by Google if you click the listing. Under the website address is the "description", the 150 or so characters that provide more detail about the listing.
3) Each listing is trying to entice you to click, but some are a lot better at it than others. These titles and descriptions are easily changed from your website, but more on that a little further down in this article.
The content of your title and description have a huge impact on whether your listing gets the click or not. Of course, listings toward the top of the page get a lot more clicks than those at the bottom, but the goal is to get as many clicks as possible, regardless of page positioning. Let's say your SEO listing is number 10 on the page (the very last position).
Google states that listings in the 10th position will average about 3% of the clicks for visitors to search results pages, all things being equal. But we don't want things to be equal, we want them to tilt in our favor. So how can you get more clicks if you are in the 10th position?
Simple, treat the words and content of your website titles and descriptions as though they were Google ads, not just listings. In the headline of this article I wrote:
9 Simple Words I Used Online That Helped Me Sell Thousands of Ductless AC Systems
If you look back at the image of the results of a search for the term "ductless air conditioner" you will see the listing for my website, ACDirect.com. My listing is in the 5th position on the first page of Google and has been there (sometimes higher) for over 8 years. This is a national result, not just local, so that listing will show up for searchers anywhere in the country.
The same is true for hundreds of variations for the "ductless air conditioner" term. As a matter of fact, we outrank This Old House, Daiken, and Lennox, among others, for this term. Many of my search terms outrank Amazon, eBay, Home Depot, Lowes, and many other large dominant firms
There are many reasons we were able to achieve these stellar rankings, but what I want you to notice is the title of my listing, which is,
How Much Does a Mitsubishi Ductless Air Conditioner Cost?
When I wrote that title about 10 years ago, I spent a lot of time trying to determine what would get the most people to click my listing. I remember thinking that for people who had just discovered ductless ac systems, the very first thought most would have is "how much do they cost?" Even if they didn't have that thought I think most would click my listing to get an answer.
Of course, no one can say for sure, but if I were a Google algorithm writer and I see a listing in the 10th position that was supposed to get 3% click-thru's on average but was actually getting a 10% click-thru-rate (yes, Google tracks this metric), I would assume that it was an enticing result for my searchers and would move it up in the rankings. In the early years, my ductless ads were ranking on the third or fourth page of Google but as soon as I re-crafted my titles and descriptions, they began to move to the second page, and then the first page very quickly.
Those listings with that exact title have generated thousands of ductless air conditioner sales for my company in the last 12 years.
So I wrote that title when everyone else was mostly not even bothering to write a title (in which case Google just picks up snippets from your webpage that create a jumbled, pointless message within the title and description of your listings).
Look at that image above again and you can see that Fujitsu actually has the worst title and description on the entire page:
www.fujitsugeneral.com/products.htm
Flex Zone (2 to 8 Zones) —————————————- —————————————- – Remote Controls —————————————- – Fresh Air Intake Kits
That link is of little value to Fujitsu even though they are ranked in the 4th position on the page. The headline and description do nothing to entice searchers to click. The only value this listing provides is the Fujitsu brand itself, which, of course, will generate clicks, but not near as many as if they had a compelling title and description.
Here's one way I may write the title and description for that Fujitsu listing:
(title)

Fujitsu Ductless Air Conditioners Are Quick & Easy To Install
The 5 benefits of Fujitsu ductless air conditioners include: 1) Highly flexible, 2) Save you money, 3) Improve indoor air quality, 4) Are easy to install, and 5) Are exceptionally energy efficient!
I want you to notice that of the entire search result listings for the term "ductless air conditioner" my listing is the ONLY one on the entire page that includes that

exact

keyword. ALL of the other organic listings refer to "ductless mini-splits" or just "mini-splits" which is NOT the keyword that was searched and is not a well-known term among homeowners.
Always include the exact keyword that your web page is about in your meta-title. Then, write a compelling title and description for the best possible click-thru-rates that your position can achieve.
Let's see how to do this for a contractor website
I searched the term "air conditioning repair Orlando" and got this result: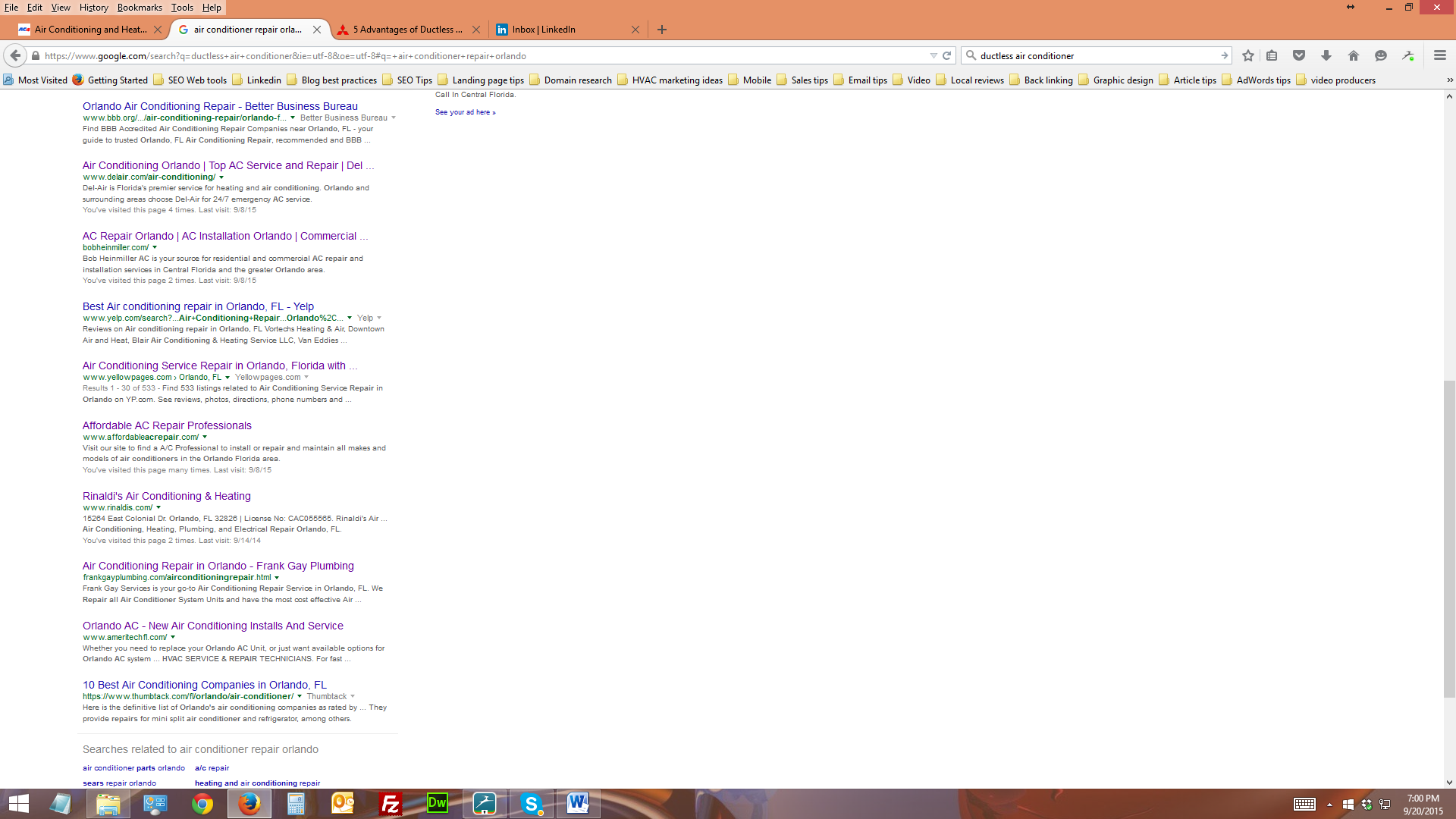 This is a listing of the first page results, top 10 listings. Not one single site even comes close to hitting the contractor SEO nail on the head! Look at the first listing which is the Better Business Bureau:
www.bbb.org/…/air–conditioning–repair/orlando-f…
Better Business Bureau
Find BBB Accredited Air Conditioning Repair Companies near Orlando, FL – your guide to trusted Orlando, FL Air Conditioning Repair, recommended and BBB …
They are guilty of what is known as keyword stuffing, or awkwardly repeating a keyword, in this case "air conditioning repair". Someone needs to tell them that trick is over and never worked in the first place.
They did nail the title by including the exact keyword that was searched followed by "Better Business Bureau". This will appeal to searchers who may not have considered checking the BBB before selecting a contractor for their home. But the actual description needs work. Here's what I would suggest:
www.bbb.org/…/air–conditioning–repair/orlando-f…
Avoid being ripped off by unlicensed contractors. Obtain quotes, information or proposals from BBB Accredited Businesses. Check out our latest scam alerts – We're online right now!
This description is informative, compelling and includes 6 benefits for clicking the listing. It also includes a call-to-action by reminding you they are online right now. My bet is they would increase their clicks by at least 35% if they followed my advice on this listing. A 35% increase would get them HUNDREDS of additional clicks per month in the number 1 position.
Let's examine the second position listing. This is a large and fairly dominate air conditioning contractor in Florida. Their listing looks better but could still be improved. I would be willing to bet that their web designer wrote this and that is almost always the case. And most designers have no clue how to write a great title and description, so let's help Del Air out:
 Here is their listing currently:
www.delair.com/air–conditioning/
Del-Air is Florida's premier service for heating and air conditioning. Orlando and surrounding areas choose Del-Air for 24/7 emergency AC service.
Let's start with the title:
The first mistake is that it is too long so Google has awkwardly truncated it with "Del…."
The second issue is the listing is all about Del Air, not the needs of the prospect. The words "you" or "your" are not used even once. Anyone who has followed my articles know that I am not a fan of "commodity" words like, the top, the best, the premier, we're number 1, etc.
Now, on another matter in their defense, when you click the listing, Google has ranked a page they have titled as "air conditioning" and from that page you have to click thru to another page for the repair details. So the fact that the title has the keyword "air conditioning Orlando" without the word "repair" in it is not really their fault. But the rest of the title has other problems that they could easily correct. Since Google has recently shortened the amount of characters they will display in your title to between 55 and 60, they have to work within this new parameter.
The current description sounds scripted with no explanation of the benefits they offer to customers. The people who already know and use Del Air are likely to click no matter what the listing reads. But it is the searchers who don't know their brand that they should be concerned about capturing.
Let's start with how I would write their title:
Are You Looking For Orlando Air Conditioning Repair Right Now?
This is the only title on the entire page that is a complete thought and asks a compelling question that we already know the answer to, and that answer is "Yes, I am!" It is also the only title that shows an awareness and understanding of the "pain" the consumer is experiencing at this moment. Plus, it contains the word "you".
That title is guaranteed to capture eyeballs so let's follow through with a great description next.
Are You Looking For Orlando Air Conditioning Repair Right Now?
www.delair.com/air–conditioning/
Are you tired of stifling heat & humidity? Get service today from just $XX & free diagnostic with repair. Nights, weekends & holidays, Del Air is there when you need us, for over 30 years. Call Now!
This description is rich with benefits and conveys the following:
You understand they are in immediate need

The word "you" is inserted 2 more times

You will react quickly.

You are transparent with your pricing

You will arrive today

You have been servicing the area for over 30 years.

It contains a call-to-action
Meta titles and description can help significantly improve your traffic regardless of your listing location within the search results pages (assuming your listing appears on page one or two of Google or the other search engines). If you have access to the back end of your website you can changes these settings very easily. Otherwise, copy the link to each page you want to change, write the revised titles and descriptions and email them to your website support provider. If you need help, call or email me and I will be happy to assist.
To view your existing titles and descriptions on each page of your website without having to log in to the back end, simply pull up a page and right click on it to view your title and descriptions. Then, when the dropdown menu appears, click on "view page source".
Then, when the coded page appears on your screen, look for the content next to this code:
<title>
<meta name="description" content=
*Note – Writing titles and descriptions for your home page is a bit different since the home page is more of a directory for your entire website and may not be product or service specific. Your titles and descriptions should contain the most profitable keywords that your site is about and a general relevant message about your most popular products or services. The home page is particularly important because it is probably the most highly ranked page on your entire website.
Meta titles and descriptions are a quick and easy way to make sure you are maximizing your contractor SEO and the traffic you get from relevant searches for your products or services.
---
Have You just about given up on ever having a successful website?
Does your online competition seem to have a huge competitive edge?
Is running your business and trying to be an online marketer just too much?
CHECK OUT MY ADVANCED RANKING SYSTEM
 The Only 100% Done-For-You Website Ranking System Designed to Implement Proven Strategies That I Have Personally Used To Generate $40,000,000 in Sales from 17,000,000 Visitors
---
Did I miss something? I would love to hear your thoughts and feedback! Have you uncovered another technique that works for you? Leave your comments below.
This article is written by Michael Haines, the founder of AC Direct, the oldest and most visited HVAC e-commerce site in the country. Michael has generated over $40,000,000 in HVAC revenue using web based marketing from his own HVAC websites, including local service and installation sites.
His websites have generated over 17,000,000 visitors and were featured in the INC 5000 list of fastest growing companies in America, 2 years in a row.
Please contact us directly at:
407-459-8804 or email info@TripleYourClicks.com.com
Related posts